Dominique Graham is a former Hollywood Makeup Artist and successful product designer and entrepreneur who has successfully sold her products on QVC as on-air talent. She is a vibrant, creative, and extraordinarily giving person who recently committed a great deal of her time to advocate for a young man who had lost an eye, to ensure he received a prosthetic eye. Dominique met this young man and instantly decided to help him, even though she had never done anything like it before.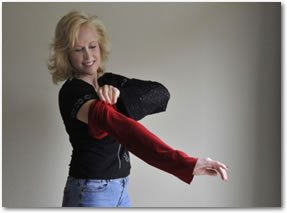 When she came to us for coaching, Dominique had discontinued her cosmetic line was ready to develop a new product called: Arm Candy. In her coaching sessions, Dominique worked on her Business Plan, Project Plan, and Marketing Plan.
"Now that you've coached me, I can see how valuable coaching is. When I didn't have support, it was harder for me to complete my projects. It was like I was out on a limb ALL BY MYSELF. With coaching, I have someone to bounce ideas off of and that makes me smarter. Our process of brainstorming and building on ideas has improved my product ideas and business plan immensely.
To create success it's crucial to surround yourself with good people that want to help you achieve your goals. With you as my coach, I have someone on my side, who is unbiased and who wants me to succeed." Dominique's product, Arm Candy, was recently profiled in the Orange County Register and Dominique is well on her way toward launching this new product.
Contact Dominique at: Dominique@DominiqueGraham.com, if you'd like to learn more about Arm Candy.