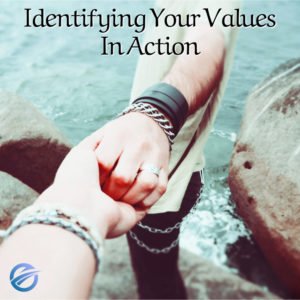 What we value drives our actions and decisions.  Having clarity about our values can help us select how we spend our time in a way that:
Moves us toward our vision

Helps us be true to ourselves

Helps us live an

authentic life
In Authentic Happiness, Martin Seligman identifies twenty-four signature strengths or Values in Action that fall into six categories.   His list is below:
Wisdom and Knowledge:

Curiosity

Love of learning

Judgment

Ingenuity

Social intelligence

Perspective

Courage:

Valor

Perseverance

Integrity

Humanity and love:
Justice:

Citizenship

Fairness

Leadership

Temperance:

Self-control

Prudence

Humility

Transcendence:

Appreciation of beauty

Gratitude

Hope

Spirituality

Forgiveness

Humor

Zest
VIA Signature Strengths Inventory – Online
In order to determine your Top Five Values in Action, you can either look through the list and choose your top five or take the VIA Strengths Inventory takes online.  It takes about 30-40 minutes to complete.
Here is the web link to take the test online.
You will need to register to take the inventory.  There is no cost.  Once you register, click on show questionnaire under VIA Strengths Inventory.  It should be the first item on the list.
Once you complete the survey, your scores will appear.  Select all 24 and print out the results.
If you need to get out of the inventory and get back into it, your answers to that point will be saved and here is the link:
http://www.authentichappiness.com
Examining Your Values
Once you have taken the Values in Action Inventory and noted your top five values or selected your top five values from the list, you can create values statements that will help you live in alignment with your values.
VIA Strengths Example:
Capacity to love and be loved

Social Intelligence

Love of Learning

Creativity, ingenuity, and originality

Caution, prudence, and discretion
Example of Values Statements
 VIA Strengths (Values in Action)
 

 Capacity to love and be

loved

 Listen to and truly hear others.  Support others' feelings.  Give to others without expecting reciprocity.

 Social Intelligence

 Act in a way that brings out the best in others.

 Love of Learning

 

Read

, write, research, and investigate things I'm interested in.

 Creativity, ingenuity, and originality

 Create workshops and write articles and books.

 Caution, prudence, and discretion

 Take care of my health.

 Low scoring value:  Bravery

 Don't let fear stop me.
Values and Value Statements
Fill in your values in the Values Column.  The write a statement of how you will live this value.  Value statements should reflect how you would like to lead your life.