VIA Signature Strengths Inventory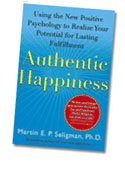 The VIA Strengths Inventory was developed by Martin Seligman to help you identify your Signature Strengths/Values in Action.  Knowing what your top 5 values are, will help you become happier in your Career and in your personal life.  The more you utilize your top 5 values, the more fulfilled you will feel.  The Inventory is online, it is Free, and it will take about 30 minutes to take.

VIA Strengths Inventory

When you arrive at the site, hover over Questionnaires, and select VIA Survey of Character Strenghts.   You will need to create a login and password.  You can access your results at any time in the future and you can look over the other questionnaires on the site to see if you wan to take any of the others Surveys.

If you want to learn more about this inventory, purchase the book : Authentic Happiness.
About Donna Schilder, Master Certified Coach (MCC)
Donna Schilder is an Executive Coach who provides a place for her clients to stand back, assess situations, reconnect to their goals, and choose the best approach to achieve business and personal success. Donna also owns Glacier PointSolutions, Inc. which provides Executive Coaching & Training to High Technology, Healthcare, Manufacturing, Professional Services, and Nonprofit leaders. Contact Donna at 562 434 7822 or Donna@DonnaSchilder.com.