Building the Life You Want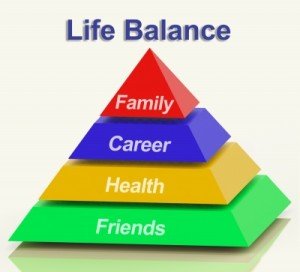 Feeling tired, overwhelmed, disengaged, directionless, or pulled in too many directions?  Working with a Life Coach can help.  Life is complicated. There are limitless options, a myriad of pressures, and an avalanche of information coming to us every day.
When I coach clients who come to me in a state of overload, I start by helping them determine what they can cut out or cut down, what they can delegate or pay someone else to do, and what can be scheduled for the future, to take the pressure off now.
We then clarify what their goals and priorities are in work and life. Once we identify this focus, we look at whether where they are spending their time truly aligns with their priorities.  In most cases, it doesn't.
M.H., owner of the Long Beach based Infant Family Services, talks about the effect coaching has had on her life : "With you as my coach, I step back and think about what is really critical, and then I have a productive day.  I also make sure I get the rest I need.  I'm glad to be living a more balanced and focused life."
Many clients who come to me say that health is a high priority for them, but often they spend zero time on maintaining their health.  Coaching can help you put action behind the goal of having good health.  Most of my clients create eating and exercise plans and they are able to stick to them because of the focus our regular discussions put on these goals.  Having a coach creates accountability for them to get the important things done.
S.S., a Global Supply Chain Vice President, is typical of coaching clients : "Life Coaching helped me get clear about what I want out of life.  Now I'm able to make a plan and stay on track   I'm able to keep moving, one step at a time, and persevere.  I'm finally living the life I've always wanted to live."
Having an outside, unbiased expert to help you examine your life is invaluable.  We're often too caught up in our day to day lives to spend any time thinking about how we can get what we want in life.
Regular coaching sessions are a time to create strategies to make your life meaningful, satisfying, and pleasant.  It's a time to create a plan to attain success.  A time to think strategically and globally about your life. Coaching creates space for you to focus creatively on the big picture.
"I feel much more in control and on purpose.  I've been able to get in touch with what's important to me and my family. Now I am living an examined life." R.V., Real Estate Entrepreneur/
People ask me, "Does everyone need a coach?" My answer is that anyone who wants to live life as well as they can and be the best they can be, will benefit greatly from working with a coach.
Image Courtesy : Stuart Miles/FreeDigitalphotos.net
https://www.donnaschilder.com/wp-content/uploads/2020/06/logo-white.jpg
0
0
Donna Schilder
https://www.donnaschilder.com/wp-content/uploads/2020/06/logo-white.jpg
Donna Schilder
2012-05-13 21:46:47
2018-10-05 13:01:13
Building the Life You Want